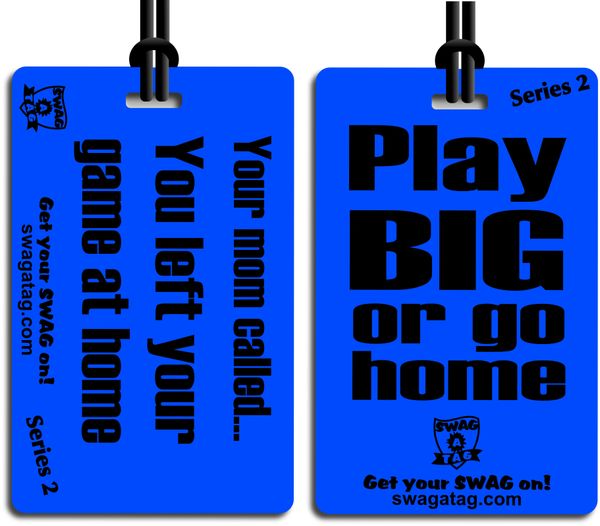 PLAY BIG OR GO HOME

An original SwagTagz "MOM CALLED...YOU LEFT YOUR GAME AT HOME" on one side and "PLAY BIG OR GO HOME" on the other.
Our tags give athletes that extra confidence to maximize their potential in sports and life. SwagTagz also give kids the ability to express themselves in a playful manner so they can enjoy the fun side of sports with their teammates, friends and family.
Product features include:
- Designed to acknowledge, inspire and motivate.
- High quality 30 mil PVC card, about 2.25" x 3.5" in size (think credit card).
- Soft plastic BLACK loop for attaching to your sports bag or backpack.
- Tag molded in FLUORESCENT BLUE.
- Printed in crisp BLACK writing.
- Each SWAG Individually Packaged

- Suitable for outdoor use.
Our fun, motivational and inspirational SWAGs also make great end of season or tournament gifts.
ACKNOWLEDGE - INSPIRE - MOTIVATE
Reviews